Whimsical Muse
/main gallery


Art and design are vehicles for bold social commentary, political activism, and deep personal philosophy. But creative visual works can also provide for levity, playfulness, and innocent joy. The ancient Greek idea of catharsis involved both tragedy AND comedy. Therefore with Whimsical Muse Manifest Gallery presents a collection of works that embody the lighter side of creativity.
Manifest's international call for entries for Whimsical Muse resulted in over 180 submissions from 18 states and 2 Canadian provinces.

The final selection of fourteen works consists of sculpture, digital photography, assemblage, painting, video, and printmaking by twelve artists from Alabama, Colorado, Indiana, Kentucky, Michigan, Minnesota, Ohio, Tennessee, and Ontario Canada.

Works by: Margot Cormier Splane, Christine Marie Davis, Wendy DesChene, Beth Edwards, Rhonda Gushee, Shane Harris, Stacey Holloway, Charlie Kearns, Ruth Marks, Gabrielle Mayer, Daniel O'Connor, and Wynter Whiteside.
The video work included in the exhibit will be screened during Manifest's monthly Art and Design on Film presentation on Thursday, December 21st, at 7:30pm.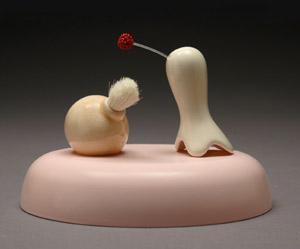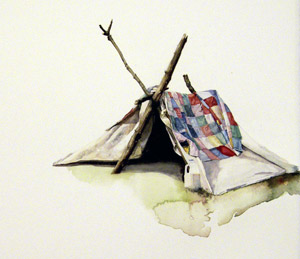 Top: Untitled by Shane Harris
Bottom: (detail)
We Are Tentmakers By Trade by Daniel O'Connor





The Drawthrough Collection
/drawing room


The Drawthrough Collection by Scott Robertson will bring this notable Los Angeles based concept designer to Cincinnati. Robertson has taught at Art Center College of Design in Pasadena, California since 1995 (with a brief stint in the Art Center Europe in Switzerland for nearly two years). He is the founder of Design Studio Press, which has a mission of design, drawing, and rendering education.

Robertson currently works as a design consultant for the entertainment, sporting goods, and transportation industry with a past client list that includes Mattel Toys, Nike, Universal Studios, Fiat, and the feature film The Minority Report.

This exhibit of Robertson's concept design work fulfills Manifest's Drawing Center mission whereby that fundamental discipline is promoted, featured, and explored, as well as to serve as a resource for those interested in a career in the creative visual arts.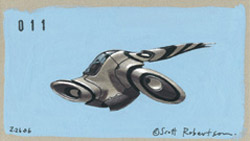 Drawings by Scott Robertson