central gallery
ONE 13
The 13th Annual Manifest Prize Winner
Katherine Tzu-Lan Mann
(Washington, D.C.)

Memory Palace
acrylic, sumi ink and collage on paper
60 x 190", 2020


Of her work the artist states:
"I examine landscape painting, environment, and cultural estrangement by building luxuriant, cinematically scaled paper paintings and installations. These combine romantic, utopian and immersive sensibilities from both Chinese and Western landscape painting with a lexicon drawn from a personal mythology informed by my identity as a biracial, second generation Asian American: ribbons, baubles, bats, peaches, sperm, piles of flowers repeated so many times as to appear biomorphic and alien, but bursting with incongruous efflorescence.
These pieces have two primary concerns: the exploration of landscape in a world where "landscape" is defined through an ever-widening field of digital, graphic, and visual forms, and the insertion of personal world building—a world of fragmentation, hybridity, and incongruity—into that history."
Katherine Tzu-Lan Mann received her BA from Brown University and MFA from the Maryland Institute College of Art. She creates large scale paintings and paper installations that examine mythology, identity, and land-scape. Mann is the recipient of the Sustainable Arts Foundation grant, a Fulbright grant, the AIR Gallery and Lower East Side Printshop Keyholder Fellowships, and the Mayor's Award and Hamiltonian Fellowship in Washington, DC. Her work has been shown internationally, including the Kreeger Museum, Academy Art Museum, Walters Art Muse-um, American University Museum, Corcoran Gallery of Art, Rawls Museum, the US consulate in Dubai, UAE, and the US embassy in Yaounde, Cameroon.
ABOUT THE $5,000 MANIFEST PRIZE

Six seasons ago our board of directors increased the Manifest Prize award to $5,000. This underscored our non-profit organization's desire to reward, showcase, celebrate, and document exceptional artwork being made today by working artists, and to do this in a tasteful non-commercial public context. Manifest's mission is centered on championing the importance of quality in visual art, supporting and encouraging artists at all levels. This project is one aspect of the realization of that mission.
We respect the creative principle of reduction (the blind jury process) as it is employed to achieve an essential conclusive statement for each exhibit we produce. This is what has led to the high caliber of each Manifest exhibit, and to the gallery's notable following. We believe competition inspires excellence. Therefore we determined over a decade ago to launch the Manifest Prize in order to push the process to the ultimate limit—from among many to select just ONE work.
Manifest's jury process for the 13th Annual Manifest Prize included multiple levels of jury review of 860 works of all shapes, sizes, and media made by 195 artists from 38 states, Washington D.C., and 5 countries, including Canada, Finland, Ireland, Japan, and the United States. The jury consisted of a total of 12 different volunteer jurors from across the U.S. Each level of the process resulted in fewer works passing on to the next, until a winner was reached. The size and physical nature of the works considered was not a factor in the jury scoring and selection.
It should be noted that the winner and finalists, 11 works, represent roughly the top scoring 1% of the jury pool. The winner represents the top one-tenth of 1% of the jury pool.
The winning work will be presented in Manifest's Central Gallery from December 16, 2022 through January 13, 2023. It will be accompanied by excerpts from juror statements and the artist's statement.

The Finalists:
The Artists of the Ten Runner-up / Finalist Works will also be featured in the season-documenting Manifest Exhibition Annual publication (MEAs19). These are works by Ric Ambrose (Richmond, California), Patricia Bellan-Gillen (Burgettstown, Pennsylvania), Steven Carrelli (Chicago, Illinois), Hiroshi Hayakawa (Columbus, Ohio), Jennifer Holt (Decatur, Illinois), and Patrick Wilson (Kalamazoo, Michigan)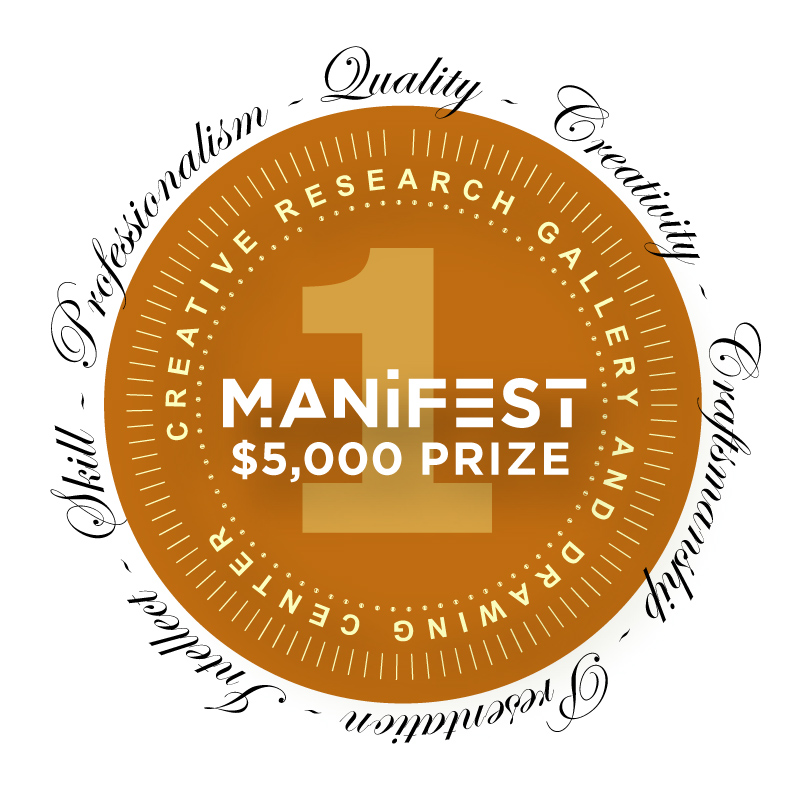 detail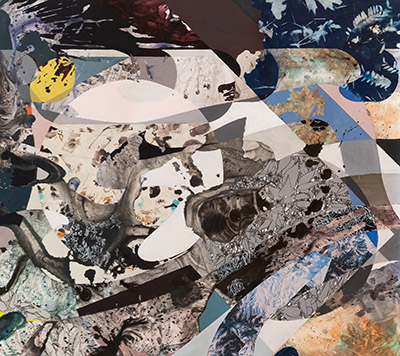 detail