parallel space + central gallery
Robert Pulley* & Dana Saulnier
A Two-Person Exhibit of Paintings, Drawings, and Ceramic Sculpture

In considering proposals submitted for this exhibition period Manifest's team realized it had a special opportunity to craft another rare two-person show featuring two bodies of compatible, contrasting, yet highly unique works by two noteworthy veteran artists working in our region. We are grateful that Robert Pulley and Dana Saulnier accepted our invitation to join forces in this two-gallery presentation of their work.
QUIET FORM
Robert Pulley was born in Wabash, Indiana in 1948. He grew up at the edge of town and the richness of the natural world became his muse. He received a BA degree in art education from Ball State University followed by an MA degree in sculpture and ceramics in 1978. His early career included a year of teaching art, an artist residency, starting and running a functional pottery in Southern Indiana, and making raku pottery at a log cabin for two years. After graduate school he, his wife and young daughter moved to Columbus, Indiana where he set up a studio and taught art in the public schools. In 1983 they purchased an old farm house with 2.3 acres. There, they turned an outbuilding into a studio, planted gardens, trees and sculptures and raised their children. 38 years later, they live at the same address. The lawn has become a sculpture garden, the trees they planted are up to 80' tall, and their children are grown. Robert has shown professionally for 50 years. His sculptures are in many private and public collections, including several museums.
Of his work Pulley states:

"My approach to art is intuitive, improvisational, and connected to the forms and forces of nature. I use chance and improvisational techniques to tap the subconscious in search of engaging forms. Most of my work has been large scale, stony and very active, with contrasting textures and earthy colors of stains and glazes accentuating sinuous or geometric forms. Simultaneously there are always a few simpler forms with smooth planes, symmetry and taught lines. These act as relief and counterpoint to the drama and activity of my dominant work.
In 2020 I decided to challenge myself to work smaller, with less color and more attention to detail. The change to smaller scale meant paying attention to marks and surfaces in a new way, The resulting work occupies space in a more intimate way."
**Note that concurrent with this show, Pulley's large scale ceramic work comprises Manifest's first ever outdoor sculpture exhibition at our new campus at 3464 Central Parkway as an extension of this intimate gallery exhibit. An artist's reception for Five Monoliths will be held during a building-wide spring open house on March 18 from 5-9pm (with an artist's walkabout at 6:30pm weather permitting). More info. Pulley also has a major display of large sculptures on view at the Krohn Conservatory in nearby Eden Park through June 18, 2023.
A guide to Five Monoliths at M1: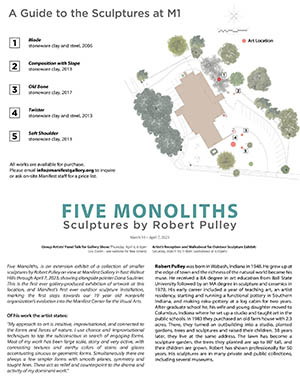 ---
IMAGES UNSAID

Dana Saulnier is a painter who lives on a few acres of rural land where he tries to keep his senses alert to the fragile rhythms of time and form. An avid reader of fiction, philosophy, and theories of visual experience, he thinks a lot about how we find ourselves as beings within nature even as we are deeply historicized within cultural horizons.
Saulnier''s painting practice is historically self conscious, aligning with and differing from traditions of the figure in landscape. Occasionally he writes about art making.
Saulnier received the BFA degree in Painting from the University of Cincinnati and the MFA degree in Painting from Cornell University. Professor Saulnier teaches Painting, Drawing, and Theory, at Miami University in Oxford, Ohio, where he currently serves as Graduate Director for the MFA program in Studio Art. Saulnier has exhibited his art in over one hundred exhibitions and more than thirty solo exhibitions, mostly in the United States, but also in Europe. Dana Saulnier is represented by First Street Gallery in New York and Cynthia Byrnes Contempory Art in Connecticut. His work can be viewed at www.danasaulnier.com.
Of his work Saulnier states:
These visceral paintings evolve a genealogy of the 'figure in landscape'. Transitions between figure and ground are continually investigated but remain uncertain and permeable. 'Bodies' in these works exist as haptic events. Yet these forms have mass and weight; they demonstrate a grounded carnal presence. Truncated forms achieve temporary integrity, a kind of circumspect vitality and position.
My paintings evolve from sets of drawings and studies in oil. When making exploratory works, I often respond to subtle intuitive sensations that I cannot quite understand. I am 'taken in', following some potential event of becoming visible. Pursuing an emotional connection to my seeing I discover formal configurations. At the same time, the paintings also fill up with unsettled seeing. Any viewpoint I may establish continuously decays and multiple arrays of sensation refuse to settle. Tensions between visibility and invisibility are thoroughly woven into the work and structure how the viewer receives the image. This fullness of seeing and not seeing—this is the painting—it is always cycling states of fugitive sense.
Painting is frequently thought historically, and viewers of the work often comment upon the dialogue with historical paintings. This is both understandable and troublesome. I think it is inadequate to see these paintings only as vehicles for appropriations, memorials, or documentary projects. For me, finding our historical being as an emotional condition is the most important goal. Living emotionally is a continuous condition of our being. Figure-landscape, landscape-figure, always, always in tension, always new.
I want to make images where active perception delays habits of categorical thinking. I hope the paintings directly 'speak' to the viewer's body and create generative aesthetic experiences. Though I love the way visual art calls forth interpretive responses, I try to make work that resists analysis while being absolutely specific in form. Painting lives best, meaning more deeply, when it devours theory.
This exhibition was assembled from two that were among 182 proposals submitted in consideration for Manifest's 19th season.