north gallery
SIR 2020/21
Works by Scholars in Residence
Seth Adam Cook & Ed Erdmann

The year-long Manifest Scholar in Residence (SIR) program was begun in 2018 as an extension of the Artist in Residence program which formally launched in 2012.
The SIR shares many of the MAR's goals, including to provide artists with an immersive year of practice and study at Manifest Drawing Center, a private work space for a year, mentorship and teaching exposure, along with support in establishing a career direction in the visual arts. During this unprecedented year the SIR and MAR were delayed by the pandemic, and temporarily shortened to ten months. This year also marked a new blend of residency assignments, with two Scholars appointed, one headquartered at the Drawing Center, and the other taking a studio adjacent to the gallery ordinarily designated as a MAR studio. Both artists' residencies remained focused on creative development supported by Drawing Center access and programming.
Ordinarily SIR artists conclude their year with a display and public presentation at the Drawing Center. However, circumstances and limitations caused by the pandemic have allowed for Manifest to present the first SIR Showcase exhibit—a two-person show shared between our two Scholars in Residence.
This two-person exhibit features works made by our 2020/21 Scholars in Residence, Seth Adam Cook and Ed Erdmann. This marks the culmination of their residency at Manifest which officially concludes in June, and serves as a celebration of their achievements, learning, and adoption into the growing list of Manifest residency alumni.
What I Saw in the Water
Works by Seth Adam Cook
"'What I Saw in the Water' speaks to the vulnerability and sorrow steeped deep in the muddied waters of the Gulf Coast. Using photographs in conjunction with image transfer, I offer viewers a chance to immerse themselves in a story of suffrage, loss, determination, triumph, and repetition. While the story is rooted in my experiences, universal themes resonate throughout: environmental destruction, ruminations on place and its effects on identity, cultural history, and the importance of remembering.  The photos that make up this body of work were taken along the Bayou Teche in south-central Louisiana. They contain landscapes, swamp-scapes, archival imagery, and pictures of loved ones that blur the past, present, and future. Through the process of image transfer, the photographic surface is exploited as though it were wet paint. The resulting grotesque-like texture becomes symbolic of the destruction caused by heavy rainfall and flooding waters, reflecting how the local communities remain at risk as much as the environment.
Grief is an important word to remember when thinking of the Gulf Coast, and the suffrage, both past, and present is etched into the culture. While catastrophic events come and go, the damage remains on the sea floor, waiting to resurface"
Seth Adam Cook grew up along the Bayou Teche in south-central Louisiana. His work addresses the issues surrounding the Gulf Coast, highlighting catastrophes from his childhood that affected his community and ecosystem. He completed his Bachelor of Fine Arts in 2016 from the University of Louisiana at Lafayette and his Master of Fine Arts degree in 2020 from Indiana University, Bloomington. He currently resides in Cincinnati, Ohio, where he is part of Manifest's Scholar in Residence program.  His work has been displayed internationally and nationally, including South Korea,  Louisiana, New York, California, Colorado, Massachusetts, Ohio, and Indiana.
Water's Memory of Earth
Paintings by Ed Erdmann
"Time has power. Like Sisyphus, the Earth is bound to cycles. The landscape speaks softly. Time is an arrow. Once it is loosed from the bow it will not stop until it hits the ground. Our human mortality acts in the same way.      
The landscape speaks honestly.      
Death is real. We, in varying degrees, have to wade through the mucky banks of mortality. All things need time to grow and become what they are. My work grows and changes through the restriction of control within the seasons. The weather calibrates the work that I make.     
This work is based in observation. It is often a quiet and personal action. Through walks I find connections to landscape and meditation in the stillness. The repetition and changing nature of seasonal weather guides the choices and materials that I use. Like a prayer, I repeat patterns, forms, and actions."     
Ed Erdmann is a United States artist currently based in Cincinnati, Ohio. He holds a Bachelor of Fine Arts degree from the University of Wisconsin, Stout. Erdmann's work investigates the landscape and its relation to human's' mortality and myth. Through exploration of natural forces Erdmann looks for ways of integrating those forces into his work. Wind, plants, trees, rivers, and soil all are active elements that find their way into Erdmann''s paintings and drawings. His work has been shown in solo and group shows locally and regionally in places such as Wisconsin Public Radio, Manifest Gallery in Cincinnati, Ohio, and Madison Museum of Contemporary Art in Madison, Wisconsin.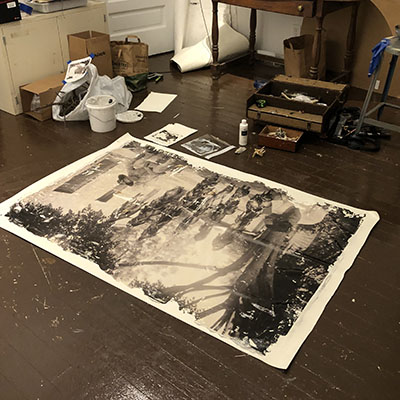 A view into Seth Cook's SIR studio adjacent to Manifest Gallery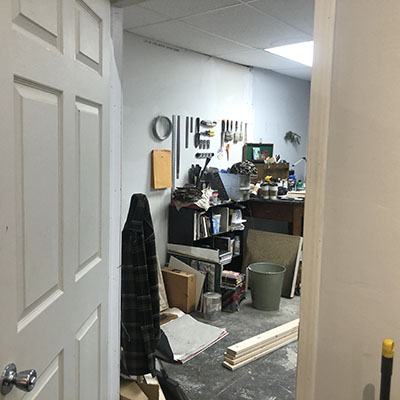 A view into Ed Erdmann's SIR studio at the Drawing Center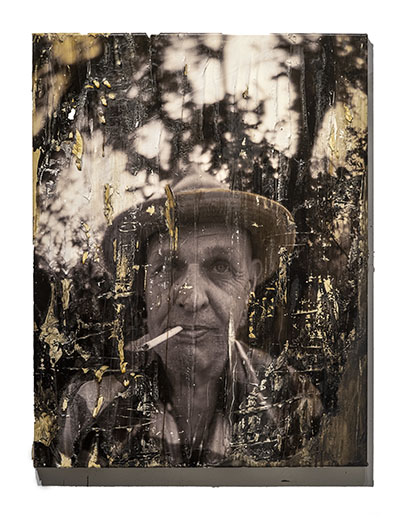 Seth Adam Cook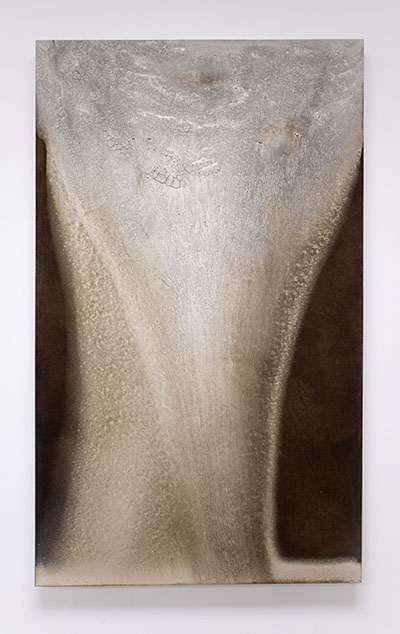 Ed Erdmann