Drawing Forgotten Places
Instructed by Katie Baker


Saturdays, 10am-1pm
September 7 – October 26

Registration Deadline: September 4, 2019


[ REGISTER HERE ]



Description:
The landscape of our cities and towns are shaped by human activity, by the way we choose to use the landscape. We build, carve, and shape it - but then there comes a time where technology or culture shifts and we move on from what we've done. Though we can sometimes re-purpose or build upon an old place, there are instances where parts of an edifice are stripped and left behind - and times when we merely shut off the lights and move on.
In this class we will work out in the natural environment, visiting sites that reveal the former lives of parts of our cities. We will learn through observational plein-air drawing and by researching and learning about these places, creating a deeper knowing that will influence our aesthetic decisions and our relationship to place.
This class will cover the following topics:
• The visual editing and organization of natural forms into the picture plane
• Methods for addressing both the general structure of the natural landscape and the specific details that attract us to it using shape, light, shadow, and line.
• Various methods of using mark-making to translate unexpected forms.
• Using drawing as a method of researching and recording information
• God-willing, finding some kind of Outlander/Narnia-esque portal into another realm and make drawing of it before peacing out of this dimension
• Testing the proper etiquette for encountering spirits in abandoned railroad tunnels
Tuition: $325
Tuition includes FREE access to all Wednesday Open Figure sessions during the duration of the course.


Class Size:
Minimum: 4
Maximum: 12
Materials List:
• A range of graphite pencils (recommended 2H, HB, and 2B)
• A felt-tip or ballpoint pen (.03 or .04 sizes. Micron, PITT, or Pentel Hybrid Technica pens are recommended)
• Vine and or Willow Charcoal
• Range of charcoal pencils (Light/Medium/Dark or HB, 2B, and 4B recommended)
• Mars Plastic Eraser
• Soft cotton rag (clean, old t-shirts are ideal)
• A drawing pad or variety of smooth/hot-press papers measuring between 8.5" x 11" and 11" x 17".
• Drawing materials of your choosing, wet or dry, based on your interests.
• This class predominantly meets outside, so you will need to consider any tools that will allow you to work in the field. Options to consider include portable easel, small rigid drawing board, a foldable chair or tripod stool.
• Some of our drawing sites will be off the beaten path, so you should consider shoes good for walking through the brush and suitable clothing.
Level of Study: This class is suggested for individuals with some observational drawing experience. Basic knowledge of drawing materials and techniques is expected.

---

LOCATION: Unless otherwise specified, all courses are hosted at Manifest's Drawing Center Studios in Madisonville at 4905 Whetsel Avenue (second floor) (see map and direction links below). Manifest's studio facility provides two classrooms, a darkroom, and a processing room all totaling nearly 4000 square-feet. The studios are outfitted with professional equipment, furniture, and study aids.

Map to NEW Walnut Hills Studio | Map to Madisonville Studio | Studio Calendar | Darkroom Calendar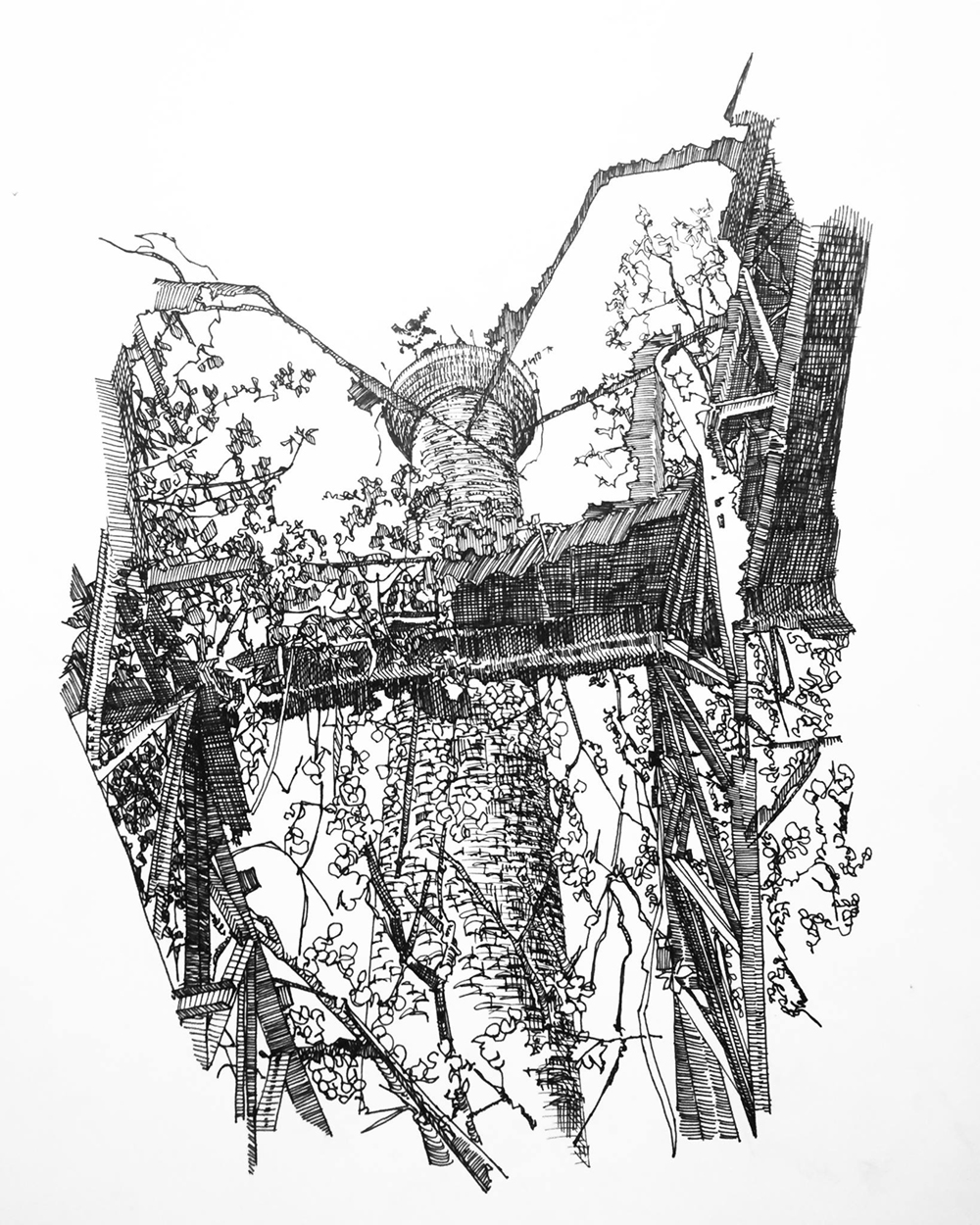 Katie Baker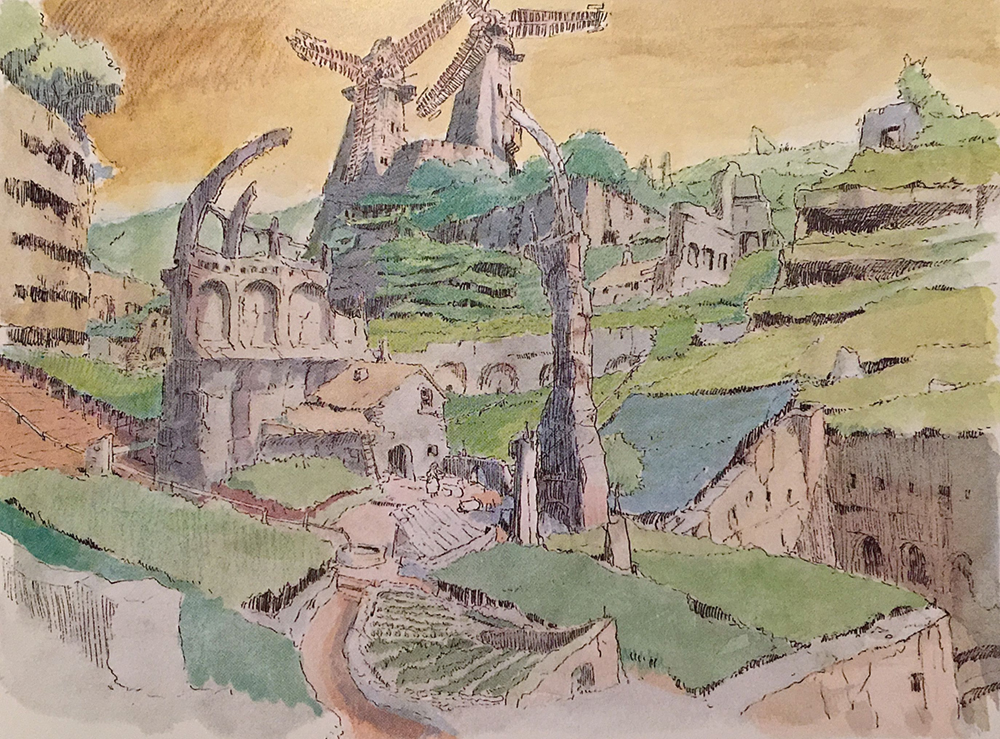 Studio Ghibli
---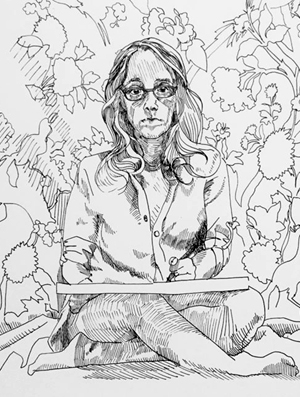 About the instructor:
Katie Baker is an artist living, and maintaining a studio, in Covington, Kentucky. She received her MFA from the University of Massachusetts Amherst in 2012, and has since worked with thousands of contemporary works of art by artists from all across the United States and beyond while serving as Exhibition Coordinator at Manifest Gallery. She has instructed courses in drawing, painting, and photography at Northern Kentucky University, the University of Massachusetts Amherst, and with the Summerfuel International College Prep Program.
Her artistic practice includes drawing and installation works that examine reality-based narratives and fictions. Baker's drawings and installations are constructed to enhance, comprehend, or obfuscate reality. Her creativity is influenced by observational drawing practices, magical realism, family/personal/cultural symbols, science fiction & fantasy, and comic books.
She's a personal fan of birds, bats, and alien conspiracies.