Intro to Black & White
Film Photography

Instructed by Isaiah Armstrong

Sundays, 12-3pm

4 Class Meetings:
September 24
October 8
October 22
November 5


Registration Deadline: September 21, 2023



[ *** REGISTER HERE *** ]


Description: Learn the essential tools, materials, and processes of black-and-white analog photography.
In this course, students will be introduced to:
Basic camera operations

Black & white film processing

Contact printing

Black & white printing from enlarged negatives

Darkroom equipment, chemistry, and safety procedures
Note: Students who complete this workshop will gain access to the community darkroom during Open Lab hours, and will not need to complete an Orientation Session.

Tuition: $195
Course fee includes black & white chemistry and FREE access to all Open Photography Labs during the duration of the course (currently six lab blocks per week)



Class Size:
Minimum: 3
Maximum: 10


Materials List: (printable PDF materials list)


Level of Study: This class is an introduction to black-and-white film processing and printing. It is suitable for absolute beginners and for those wishing to refresh their darkroom skills.


---

LOCATION: Unless otherwise specified, all courses are hosted at Manifest's new facility at 'M1' in Clifton at 3464 Central Parkway (see map and directions below). Manifest's new facility provides multiple studio classrooms, private lesson space, a darkroom, a film processing room, and a multi-purpose lecture and class meeting space as well as on-site parking, grounds, and exterior spaces in which to relax, discuss, and make art. The studios are outfitted with professional equipment, furniture, and study aids.

Map to Manifest's M1 Studios | Studio Calendar | Darkroom Calendar

---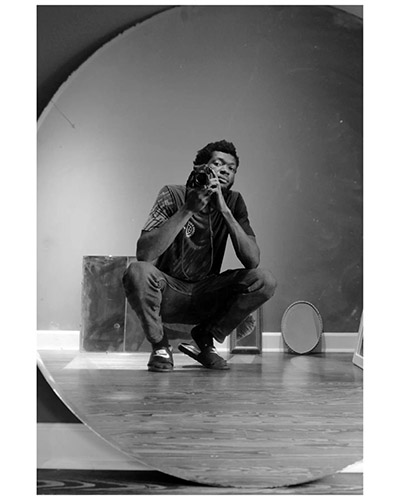 About the instructor:
Manifest's Scholar in Residence Isaiah Armstrong is a 25-year-old Cincinnati native who started teaching himself photography after being gifted a camera by his grandfather. Although he's studied at Cincinnati State and the Art Academy of Cincinnati, the most significant forces motivating Isaiah's work are seeing photos made by other young photographers like Kentucky's Jon Cherry (and his work around the reactions to the Brenna Taylor verdict) and revisiting his father's photography. These influences opened his eyes to photography's potential to convey interpersonal intimacy while also touching on the complexities of the human experience in a broader sense.
Prior to Isaiah's focused investigation of analog photography, he spent time working in the non-profit sector, with organizations like Public Allies, remodeling homes, and even pursuing basketball as a career.
Isaiah has a strong background working with diverse populations, including those experiencing mental health challenges. Isaiah's life experiences make him an exciting addition to the Manifest Drawing Center's instructional staff, leading our Photography Essentials series of classes.