GENERAL PROGRAM INFORMATION
SCHEDULE
Sessions are now offered on a weekly basis on Tuesdays, Wednesdays, Thursdays, and Sundays throughout the year. Our CALENDAR is the best place to confirm the status of a session or course. In general, major holidays or weather emergencies (or state or city-mandated pandemic shutdowns) are the only times sessions are not offered. Note that Manifest does not provide materials for drawing or painting. Participants should plan to bring whatever is needed for their session's work.
Tuesdays and Wednesdays generally offer a one-session pose (roughly two hours), sometimes including a few short (5 minute) poses to warm up, and may at the moderator's discretion break the session into two or more medium-length poses from time to time.

Thursdays offer a single pose that lasts two weeks (roughly four hours total), allowing for more finished, refined, or larger works. Some participants choose to complete just one drawing or painting across the two-day pose, while others will choose to complete multiple works, moving around the room for different views.

Sunday morning sessions now offer a portrait-focused opportunity with clothed model.
SCHEDULE:
| | |
| --- | --- |
| Tuesdays | 7-9pm |
| Wednesdays | 7-9pm |
| Thursdays (long pose - two session pose) | 7-9pm |
| Sundays (portrait focused - clothed) | 10am-12pm |
Note: on very rare occasions a session may be canceled on a particular day due to overlap with a Manifest instructed course or public artist demo scheduled for the same space. Communications about such a closure will be made in advance, and noted on our calendar, and all 10-week block participants will have their registrations extended by one session.
---
MODERATORS
| | |
| --- | --- |
| Tuesdays | Cindy Schoenborn-Young |
| Wednesdays | Aisha Fajardo |
| Thursdays | Jill Griffin |
| Sundays | Alexandra Franz |
---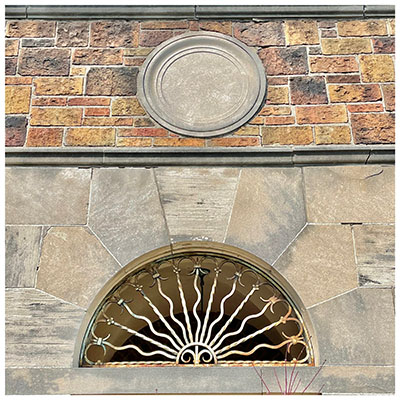 Entrance to Drawing Center programs at M1

LOCATION NOTE: Open Figure Life Drawing was among the first programs to transition to Manifest's new home at 3464 Central Parkway (M1) as of May 17, 2022.
The 15,000 square foot historic 90 year old French Normandy style building on its one-acre site in Clifton near Camp Washington is easily accessible from the entire Greater Cincinnati region. On-site parking, grounds, and the welcoming neighborhood of Clifton Hills promise to make this permanent home for Manifest an ideal place to experience, practice, and learn.
We can't wait to share the amazing space and environment with participants! Please bear in mind our transition to the new space will take time, and so various procedures may evolve over the coming months and the next two years as we develop plans for major renovations. Please be patient with us as we grow!
As always, drawing horses and easels are available on a first-come first served basis. Supplementary seating, including chairs, stools, and cushions is also available. Participants should provide for their own supplies and drawing board if planning to use our easels. Our limited quantity of horses have built-in drawing boards.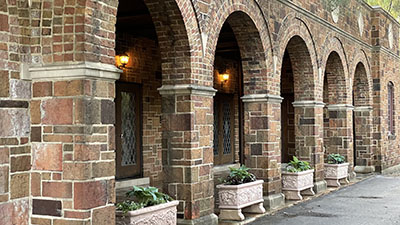 The Study Arcade at M1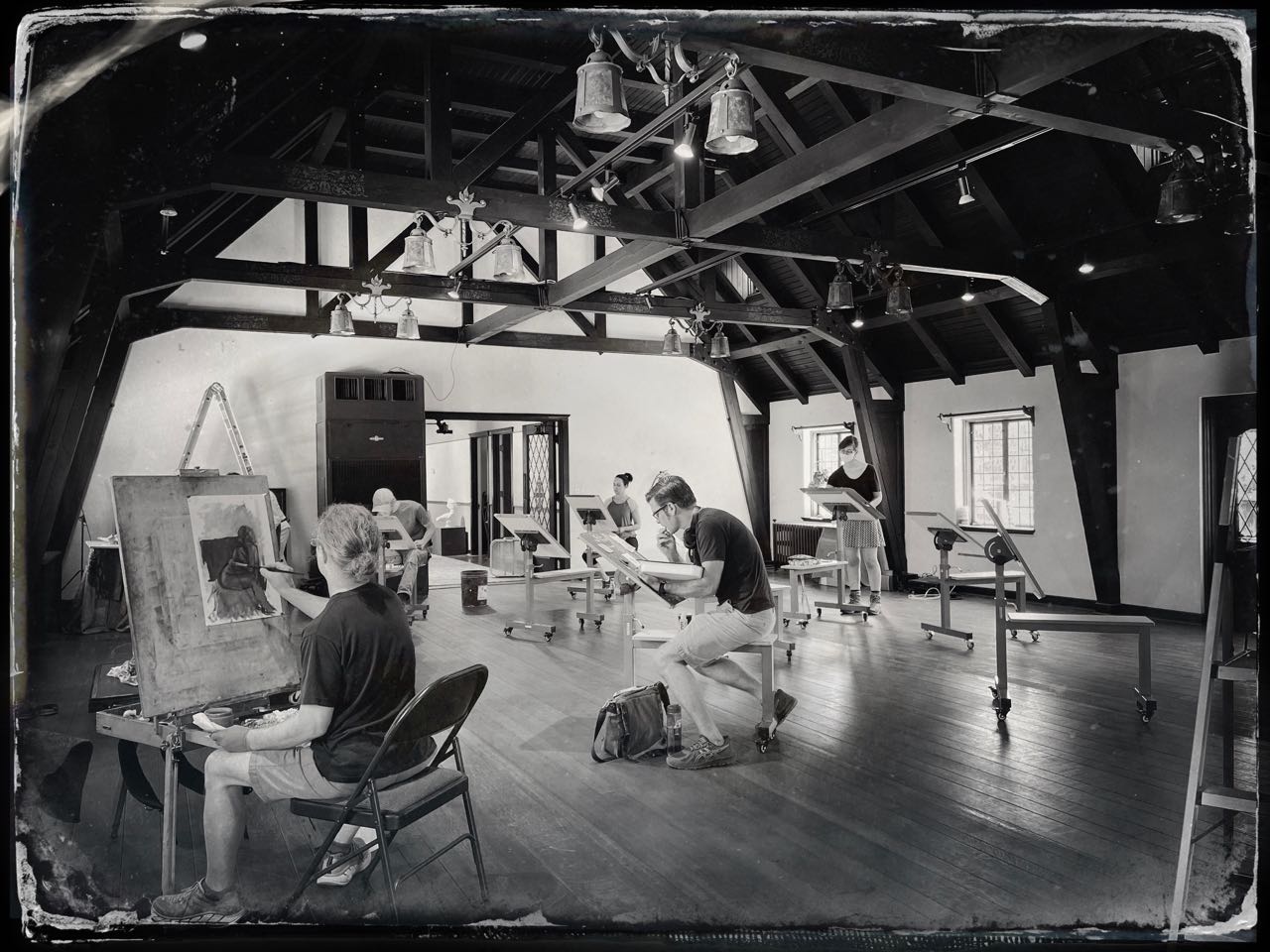 The Large Classic Drawing Studio at M1
PRICING AND PARTICIPATION INFORMATION
WALK-INS WELCOME!
Walk-ins (one-time or part-time participants) are always welcome! This allows those who cannot find time to participate every week to take advantage of the value of Manifest's studio program according to their schedule. At least 1 hour before participating, walk-ins must register and purchase a ticket via EventBrite using this link.
WALK-IN PRICING
General
$14 per visit*
Student
$7 per visit*
* A nominal Eventbrite transaction fee will be added to this cost at checkout.
ALL WALK-IN PAYMENTS MUST BE MADE VIA EVENTBRITE when claiming ticket. No cash or check payments will be accepted.
---
BLOCK PRICING
STANDARD "ANY-DAY" 10 SESSION PASS*
(10 visits to be completed within six months of purchase.)
General
$105 per block of 10 visits
Student
$50 per block of 10 visit
These passes offer the participant 10 visits to any Open Figure session. Enrollment is non-transferable. Passes expire when ten sessions have been attended or within six months of purchase, whichever comes first.
*10-Block passes are good for any Open Figure session on any Tuesday, Wednesday, Thursday, or Sunday. They are not day-specific.
ALL BLOCK PASS PAYMENTS MUST BE MADE VIA PAYPAL and registered through our website here. No cash or check payments will be accepted for the time being. Once registered, specific date attendance tickets can be claimed here.
---
YEAR-LONG PASS:** (approximately 50 visits)
General
$420 per year for Tuesday OR Wednesday OR Thursday OR Sunday
Student*
$210 per year for Tuesday OR Wednesday OR Thursday OR Sunday
* with valid academic I.D. in high school or college institution
These passes offer each participant approximately 50 sessions across a one-year period starting with the first day attended. Participants' visits must occur in the track selected throughout the period (Tuesday, Wednesday, Thursday, or Sunday). Enrollment is non-transferable. Session passes expire one full calendar year after the first date attended.
**Year-long passes are day-specific. When you register, you'll be asked to select either Tuesday, Wednesday, Thursday, or Sunday participation. Your pass will provide you with unlimited visits to that day's Open Figure sessions for 12 months. Register for a year-long pass here.
---
Looking for even more time working from live models or engaging with the Drawing Center Community? Then this is for you:
DRAWING LEAGUE STUDIO MEMBERSHIP
Full-Year Membership:
$1500

(a 46% discount off the cost of attending individual Open sessions)

Half-Year Membership:
$800

(a 42% discount off the cost of attending individual Open sessions)
Drawing League Membership allows you to attend ANY AND ALL scheduled weekly Open Figure sessions, Drawing Marathons*, and Visiting Artist Public Demonstrations offered during the duration of your membership without any further payment.
With the full-year membership representing a discount value of close to 50% off the cost of attending individual Open sessions, the Drawing League Membership is our most economical option for our participants to gain…
• valuable flexibility from week to week
• the ability to maximize access to the studio and the live model
• a stronger culture among studio regulars
• a 10% discount on all Instructed Courses

Memberships expire either six months or twelve months from the date of the first attendance.
*Marathons are offered intermittently. A specific number may or may not align with a League Membership period.