Myths, Mausoleums, & the Macabre: A Plein Air Drawing Class in Cemeteries
Instructed by Katie Baker


Saturdays, 10am-1pm
September 23 – November 11

Registration Deadline: September 20, 2023


[ REGISTER HERE ]



Description:
Cemeteries bear the distinct markers of culture, development, and architecture, and yet in order to keep them any kind of "holy" we follow certain rules and restrictions that result in a places existing on a strange boundary between being both fully human-inhabited and left to the enormity of nature. Plein-air drawing in this environment is an immersive, reactive process that allows the artist to build a connection with our city's sacred spaces through the study and description of the lands set aside for our dead.
This class will cover the following topics:
The visual editing and organization of natural forms into the picture plane


Methods for addressing both the general structure of the natural landscape and the specific details that attract us to it using shape, light, shadow, and line.


Various methods of using mark-making to translate unexpected forms.


Using drawing as a method of researching and recording information.


The histories of burial grounds and memorials, specifically those relating to our city's history in unique and interesting ways.


Wicked-creepy ghost stories and at least one attempt to seek out and draw "spectral anomalies" and or the Mothman.
Tuition: $345



Class Size:
Minimum: 4
Maximum: 12
Materials List:
A range of graphite pencils (recommended 2H, HB, and 2B)
A felt-tip or ballpoint pen (.03 or .04 sizes. Micron, PITT, or Pentel Hybrid Technica pens are recommended)
A Pentel Arts brush pen
Vine and or Willow Charcoal
Range of charcoal pencils (Light/Medium/Dark or HB, 2B, and 4B recommended)
Mars Plastic Eraser
Soft cotton rag (clean, old t-shirts are ideal)
A drawing pad or variety of smooth/hot-press papers measuring between 8.5" x 11" and 11" x 17".
This class predominantly meets outside, so you will need to consider any tools that will allow you to work in the field. Options to consider include portable easel, small rigid drawing board, a foldable chair or foldable tripod stool.
Some of our drawing sites will be off the beaten path, so you should consider shoes good for walking through the brush and suitable clothing.
Level of Study: This class is suggested for individuals with some observational drawing experience. Basic knowledge of drawing materials and techniques is expected.
---

LOCATION: Unless otherwise specified, all courses are hosted at Manifest's new facility at 'M1' in Clifton at 3464 Central Parkway (see map and directions below). Manifest's new facility provides multiple studio classrooms, private lesson space, a darkroom, a film processing room, and a multi-purpose lecture and class meeting space as well as on-site parking, grounds, and exterior spaces in which to relax, discuss, and make art. The studios are outfitted with professional equipment, furniture, and study aids.
Map to Manifest's M1 Studios | Studio Calendar | Darkroom Calendar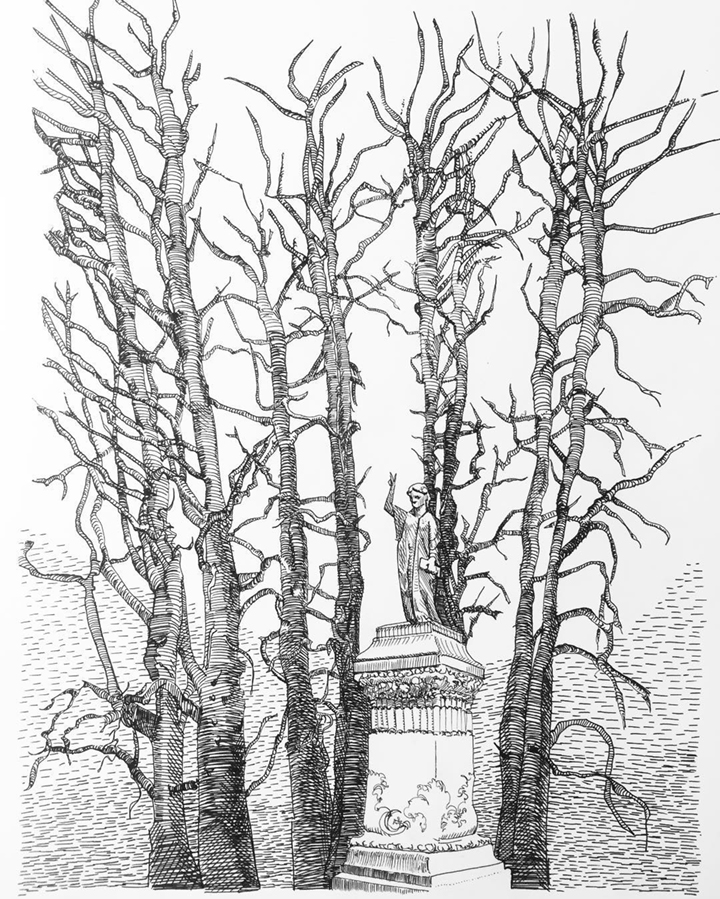 Katie Baker

William Blake
---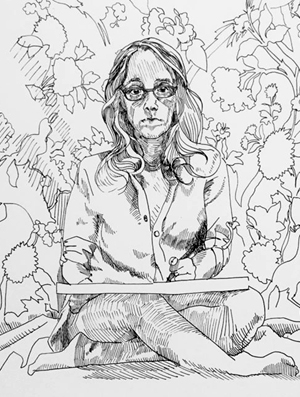 About the instructor:
Katie Baker is an artist living, and maintaining a studio, in Covington, Kentucky. She received her MFA from the University of Massachusetts Amherst in 2012, and has since worked with thousands of contemporary works of art by artists from all across the United States and beyond while serving as Senior Exhibition Coordinator and Curatorial Assistant at Manifest Gallery. She has instructed courses in drawing, painting, and photography at Northern Kentucky University, the University of Massachusetts Amherst, and with the Summerfuel International College Prep Program.
Her artistic practice includes drawing and installation works that examine reality-based narratives and fictions. Baker's drawings and installations are constructed to enhance, comprehend, or obfuscate reality. Her creativity is influenced by observational drawing practices, magical realism, family/personal/cultural symbols, science fiction & fantasy, and comic books.
She's a personal fan of birds, bats, and alien conspiracies.