BRIDGING THE GAP: Preparing Tomorrow's Artists for Success

Instructed by Michael Coppage

Sundays from 1:30-4:30pm
February 7–April 25, 2021
Registration Deadline: January 15, 2021
—[ APPLY HERE ]—


This course will introduce high-school artists to many of the tools, resources, and lessons essential to a successful life in the visual arts. In order to prepare students for a powerfully creative path beyond high school, this program will inspire young artists to explore both a wide variety of materials and techniques and the challenging discussions, in-depth research, and productive critique methodology often utilized in early university and college art classes and beyond.
This is a course focused on preparing tomorrow's artists—especially those from underrepresented communities—to navigate the many challenges of academic art programs and to use their artistic "voices" to participate effectively in the social and political conversations that mark our times.

Through this program, successful students will develop an advanced understanding of:
Design Principles - Balance, Emphasis, Contrast, Variety, Movement, Economy, Unity, etc.
Observational Drawing Strategies—From Life and Image-based Resources
Direct and Indirect Mark-Making Techniques
Drawing Tool Control
Visual Communication Tactics
Artist Statements
Productive Critique Methods
And Many More Topics Necessary for the Success of Young Artists!


Tuition: FREE*

*Tuition remission supported in part by a grant from the Nellie Leaman Taft Foundation and an anonymous Cincinnati-based family foundation.

Minimum Enrollment: 5
Max. Enrollment: 10
Level of Study: This class is open to high school juniors and seniors seriously considering attending college with a focus on the fine arts in the coming years.



Materials List:**
Sketchbook 9 x 12 Inches
Pencils (Recommend B, 2B, 4B Pencils)
Old Newspaper (Recycled/Discarded Newspapers)
Sticks (Various Lengths and Thicknesses)
Twigs (Various Lengths and Thicknesses)
Cardboard (Recycled)
Gluestick
Scissors
Ruler Or T-Square (24 Inches Minimum)
One Round Brush (Synthetic, Size 8)
Sponge
Charcoal (One Pack Each of Vine and Compressed Charcoal)
Conté Crayon - Black
Gum Eraser
Kneaded Eraser
Workable Fixative
Small Amount of India Ink
Newsprint Pad 22 X 30 Inches
Mixed-Media Pad 16 X 20 Inches
1 Multicolor Pack of Tissue Paper
Gloss Medium
Masking Tape (Yellow and Black)
Painters Tape (Blue)
Gesso - Small Bucket
Oil Pastels
Chalk Pastels
Black Acrylic (Quantity 250ml)
** All materials will be supplied by Manifest Drawing Center.

—[ APPLY HERE ]—

Registration Deadline: January 15, 2021

Questions? Email Adam Mysock at mysock@manifestdrawingcenter.org


---

LOCATION: Unless otherwise specified, all courses are hosted at Manifest's Drawing Center Studios in Madisonville at 4905 Whetsel Avenue (second floor) (see map and direction links below). Manifest's studio facility provides two classrooms, a darkroom, and a processing room all totaling nearly 4000 square-feet. The studios are outfitted with professional equipment, furniture, and study aids.

Map to NEW Walnut Hills Studios | Studio Calendar | Darkroom Calendar

top image, detail of work by Eduardo Mac Entyre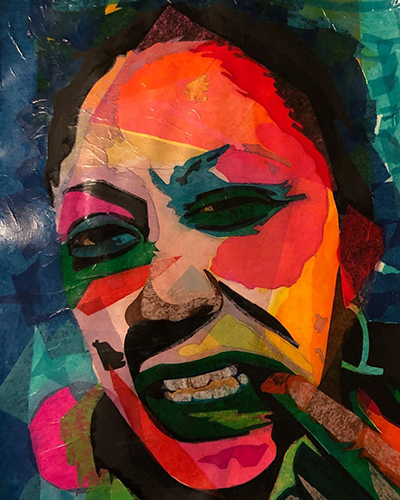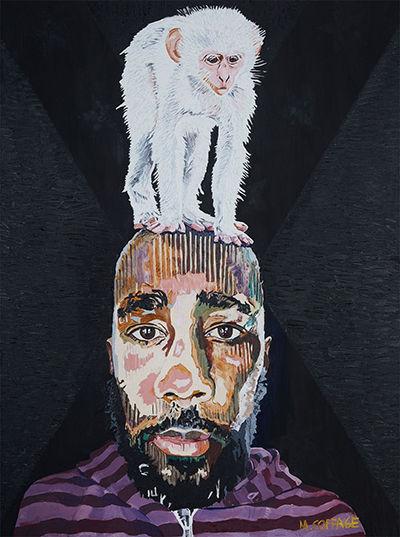 paintings by Michael Coppage
---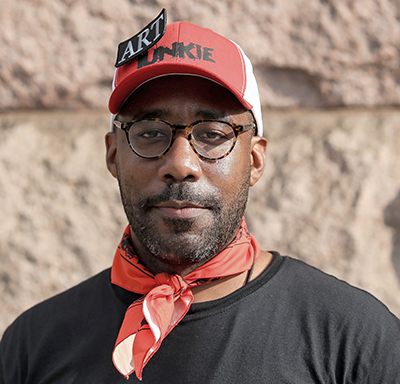 About the instructor:
Artist Michael Coppage is originally from Chicago but has lived and worked in Cincinnati since 2007. He holds his Bachelor of Fine Arts degree in Sculpture (2001) from Memphis College of Art, where he earned multiple academic scholarships including the Jesse & Dolph Smith Emeritus Fellowship—an award that allowed him to travel and study specific artists throughout Poland. Michael earned a Master of Fine Arts degree in Studio Art from The Pennsylvania Academy of the Fine Arts in 2005, earning the Justine Cretella Memorial Scholarship. Following his studies at PAFA, Michael received a full fellowship to the Vermont Studio Center and continued his research by traveling and studying abroad for the next 5 years.
Michael began teaching art as part of his work/study responsibilities for Saturday School at Memphis College of Art, instructing in a variety of disciplines for many years. Between his undergrad and graduate careers, he taught K-12 students in Chicago Public Schools, and he began teaching college-level courses for Juniors and Seniors in high school during his graduate studies at PAFA. Over the past 15 years, Michael has also taken on many private students, apprentices, mentees and interns.
Michael Coppage has a prolific studio practice that regularly allows him to express both his artistic voice and his compassion for his community. In 2012, his series entitled "Stigmatized: The African-American Male and Schizophrenia" served as the backdrop of the annual gala for the National Alliance on Mental Illness. In 2017, he was awarded the Ohio Psychiatric Physicians Foundation's Enlightenment Award and was recognized statewide for his efforts to use art to enhance the public's understanding of mental disorders and the stigmas often associated with mental illness. Michael co-created a therapeutic art program called PIECES in 2016 at the Cincinnati Children's Hospital, College Hill Campus where he engages adolescent psychiatric patients through the creation of large scale portraits; to date, over 300 images have been completed and exhibited around the Cincinnati area.