ABOUT OUR NEW LOCATION STARTING JANUARY 2020
Manifest's Drawing Center program (NOT the Gallery) has relocated from Madisonville to a new home in Walnut Hills. As of February 2020 all painting, drawing, photography* and private lesson courses and sessions will be held in the new space. Darkroom photography programming will be on a temporary haitus of a few weeks while our darkroom is being finished and set up. If you have any questions during our transition just reach out to us here.
As of February 1, 2020 all Center programming will be at the new location.
Our new location address is:
656 E. McMillan St., Cincinnati, Ohio 45206 (second floor)

General parking map available here. The new location includes six parking spots on-site to the east (right side) of the building, including one handicap spot. There is parking on E. McMillan, and on May and Boone streets. There is also a parking lot that will eventually be opened for access directly across the street directly next door to the Pickled Pig.
Signage, facade improvements, and other refinements are planned, but thank you in advance for understanding that our transition requires time (and funding) to complete all details to our satisfaction. In other words "pardon our dust".



A FEW ENTICING DETAILS ABOUT OUR SPACE
The new Drawing Center studios and darkroom will not only replicate the large 'main studio' and meeting/classroom/anteroom we've had at Whetsel since 2011. The new space will also provide TWO additional studio/classroom spaces, medium and small sized, including a dramatic skylight in a vaulted ceiling for daytime coursework. The small work space will provide setup space for still life creative research, eventually including multiple do-not-disturb bays for individual work. Two additional spaces round out our suite of studios providing a darkroom and processing room for film photography. Finally, the new space also boasts a larger private studio for our yearly Scholar in Residence program. The facility will eventually unveil other exciting surprises all driven by the raw creative potential we've found in the architecture itself.
Expect the combined benefit of all these unique spaces to result in new offerings expanding across the year, including weekday options, expanded private lessons, new instructed courses, and much more!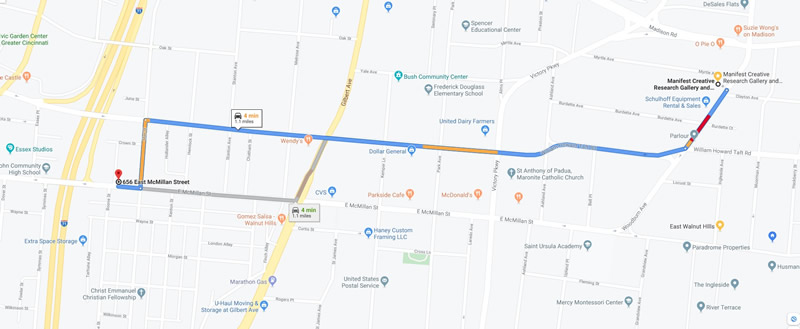 A FEW ENTICING DETAILS ABOUT OUR NEW LOCATION IN WALNUT HILLS
The new facility is located directly across the street from The Pickled Pig, a very popular BBQ restaurant. Immediately next door (west) a coffeehouse and bar formerly known as the Landlocked Social House is reopening as The Fix Coffeehouse and Bar. The Fix is opening January 1st right alongside Manifest's move! We understand that the intimate coffee spot will maintain similar hours as the previous establishment, which means it'll open sometime in the morning and remain open through later in the evening 7 days a week.
Beck Hardware and Paint is just a short partial block east of our location. The Essex Studios complex is a long block west of us just across I-71. Other new and long-standing Walnut Hills amenities are within walking distance east (to name just a few: Cafe Vivace, The Brew House, Just Q'in, Fireside Pizza, The Comfort Station, Parkside Cafe, and more to come!) Of course there is also the Cincinnati Art Museum which is just a little over a mile away in Eden Park, Core Clay (a privately owned community clay studio) is just down the street and around the corner on Gilbert Avenue, and our very own world famous Manifest Gallery is exactly a mile up McMillan and left on Woodburn.
Needless to say we are very excited not only about our vastly expanded creative space, but also the community we're joining. The fact that the Walnut Hills Redevelopment Foundation will be our next door neighbors sharing the second floor of our building just tops it all off perfectly.
Stay tuned here for more details as we get them!